Employers regularly eliminate healthcare benefits as a strike-breaking tactic. A bill just introduced in Congress seeks to finally end this practice.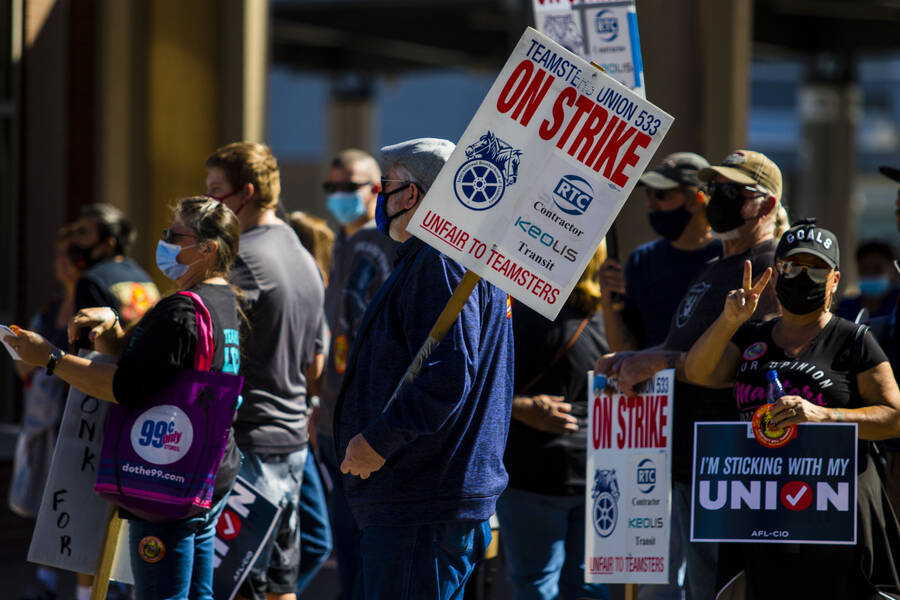 (PHOTO BY TY O'NEIL/SOPA IMAGES/LIGHTROCKET VIA GETTY IMAGES)
On Wednesday, House Democrats introduced a landmark bill that would make it illegal for employers to cut off healthcare benefits to striking workers. The Striking Workers Healthcare Protection Act would subject employers to a fine of up to $50,000, which could be doubled by the National Labor Relations Board for employers who have been in violation of the policy within the past five years.
Rep. Cindy Axne (D‑Iowa) says she was inspired to introduce the legislation after John Deere threatened to take away healthcare policies from workers who were on strike in her district last fall. Several of the bill's co-sponsors represent districts where cutting healthcare has been used by companies as a strike-breaking tactic, including Rep. Steven Cohen (D‑Tenn.) whose constituents were among the 1,400 striking workers at Kelloggs' cereal plants in four states. Other co-sponsors include Reps. Brian Higgins (D‑N.Y.), Andy Levin (D‑Mich.), Jim McGovern (D‑Mass.), Bill Pascrell (D‑N.J.), Linda Sánchez (D‑Calif.) and Nikema Williams (D‑Ga.).
If passed, the legislation could better position workers to negotiate with their employers for better wages, benefits and working conditions.
"The threat itself is used to break strikes and force workers to accept contracts that don't meet their needs. That's why I wrote the bill," Rep. Axne tells In These Times. ​"I heard about children who need their parents' health insurance because they have asthma or needed glasses, or workers who need access to medication. I was appalled, and soon after I learned from other colleagues in D.C. that this had also been happening to their workers in recent years."
In October 2021, 10,000 members of the United Auto Workers (UAW) went on strike at John Deere for the first time in 35 years, demanding better salaries and overtime pay while opposing proposed increased healthcare premiums and a two-tiered wage system. The company responded by threatening to eliminate healthcare benefits for workers and their families over the duration of the strike, before ultimately reversing course.
"Unfortunately, employers use this threat to discourage workers from going on strike or to push workers to end a strike before an adequate contract agreement has been reached," says Laurel Lucia, the Health Care Program Director at the University of California Berkeley Center for Labor Research and Education. ​"With this threat looming, workers aren't fully able to exercise their rights to a fight for a strong collective bargaining agreement."
[Read on]