BY C.J. ATKINS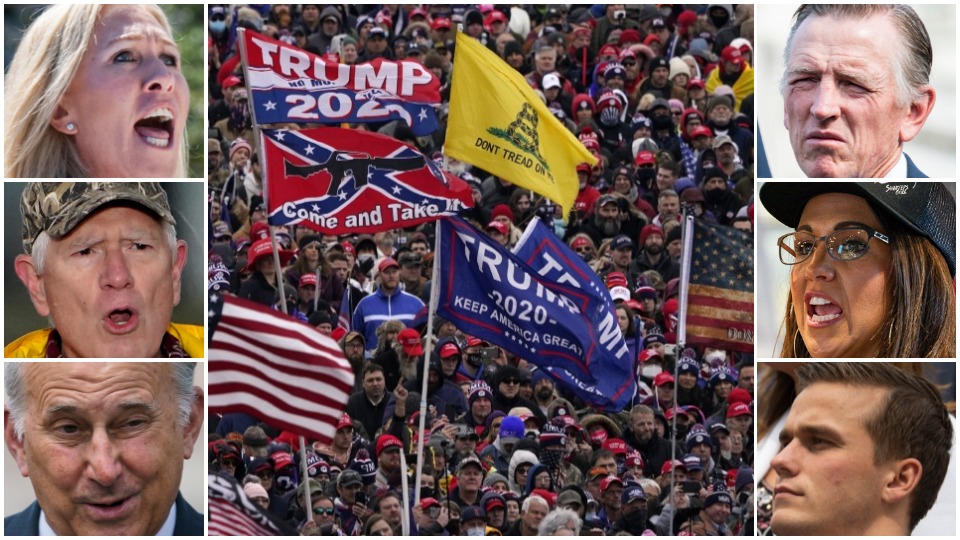 Some of the Republican Congressional conspirators implicated. Left column: Rep. Marjorie Taylor Greene of Georgia, Rep. Mo Brooks of Alabama, and Rep. Louie Gohmert of Texas. Right column: Rep. Paul Gosar of Arizona, Rep. Lauren Boebert of Colorado, and Rep. Madison Cawthorn of North Carolina. | All photos via AP
It comes as no surprise, of course, that several Republican members of Congress and White House staff were "intimately involved" in planning and executing the Jan. 6th Trump coup attempt. The detailed revelations published by Rolling Stone magazine this weekend, however, provide the opportunity to repeat something this publication has been saying ever since the day of the failed fascist insurrection: Expel the coup plotters from Congress, prosecute them, and jail them.
With the Jan. 6th House Select Committee's inquiry into the coup heating up and the possibility of criminal consequences looming, some of Trump's lower-level foot soldiers are running scared and turning state's evidence. Two people involved with organizing and planning the Jan. 6th rallies that resulted in the storming of the Capitol are now spilling their guts to the press and will soon divulge what they know to House investigators. Turns out there's no loyalty among (election) thieves.
The two anonymous figures remain Republican loyalists but, feeling abandoned by Trump, they are eager to point fingers at those they claim led them down the road of sedition. "They made us all look like shit," one said. The other lamented, "I'm pretty pissed about it, and I'm pissed at him (Trump)."
It has long been known that GOP representatives and senators played a role in the Jan. 6th coup attempt—many of them gave advance Capitol tours to the terrorists, spoke at rallies and events, or defended rioters afterward. The information provided by these two organizers, however, directly implicates Republican politicians in ways that will be tough to deny. It proves that GOP leaders not only knew what might happen when the Electoral College results were being certified but also that they aided and encouraged the forces seeking to violently reverse Trump's loss.
[Read On]