Cops are testifying against a cop. That almost never happens.
By Trone Dowd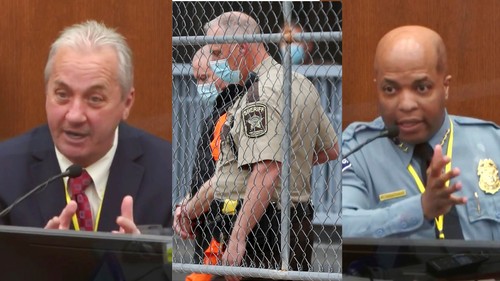 LEFT: LT. RICHARD ZIMMERMAN TESTIFIES DURING THE TRIAL OF FORMER MINNEAPOLIS POLICE OFFICER DEREK CHAUVIN IN HENNEPIN COUNTY COURT IN DOWNTOWN MINNEAPOLIS (COURTTV). MIDDLE: DEREK CHAUVIN IS ESCORTED FROM THE REAR OF THE HENNEPIN COUNTY FAMILY JUSTICE CENTER FRIDAY, SEPT. 11, 2020, IN MINNEAPOLIS. (DAVID JOLES/STAR TRIBUNE VIA AP). RIGHT: MINNEAPOLIS POLICE CHIEF MEDARIA ARRADONDO TESTIFIES DURING THE TRIAL OF DEREK CHAUVIN IN HENNEPIN COUNTY COURT. (COURTTV).
The unspoken bond among police to defend each other, often no matter the circumstances, has continuously hindered investigating and prosecuting officers accused of wrongdoing. But that so-called Blue Wall of Silence is now crumbling around Derek Chauvin, who's facing up to 65 years in prison for the murder of George Floyd.
"In no way, shape, or form is what Officer Chauvin did part of our training, ethics, or values," Minneapolis' first Black police chief, Medaria Arradondo, said plainly in front of the jury Monday.
In the last four days of Chauvin's murder trial, several high-ranking police officers have taken the stand and openly condemned his actions, which reignited a national movement against police violence last summer. Law enforcement witnesses have repeatedly testified that Chauvin never should have kneeled on Floyd's neck, and certainly not for more than 9 minutes when the 46-year-old Black man wasn't actively resisting. They've also said that doing so violated their training, department policies, and moral promise to serve.
"To rally around Chauvin and say, 'This is policing as normal, this is acceptable practice,' would risk greater harm to the reputation of the police than basically just coming forward and saying, 'This is not who we are, and this is not what we do," Daniel Medwed, a criminal justice professor at Northeastern University's School of Law, told VICE News. "I think all of them are aligned with coming forward and saying Chauvin is outside of our group: that he is a bad apple but we are a good tree."