The Biden administration may usher in a new period of reform, but history shows that it's unlikely to last if our economic system remains intact.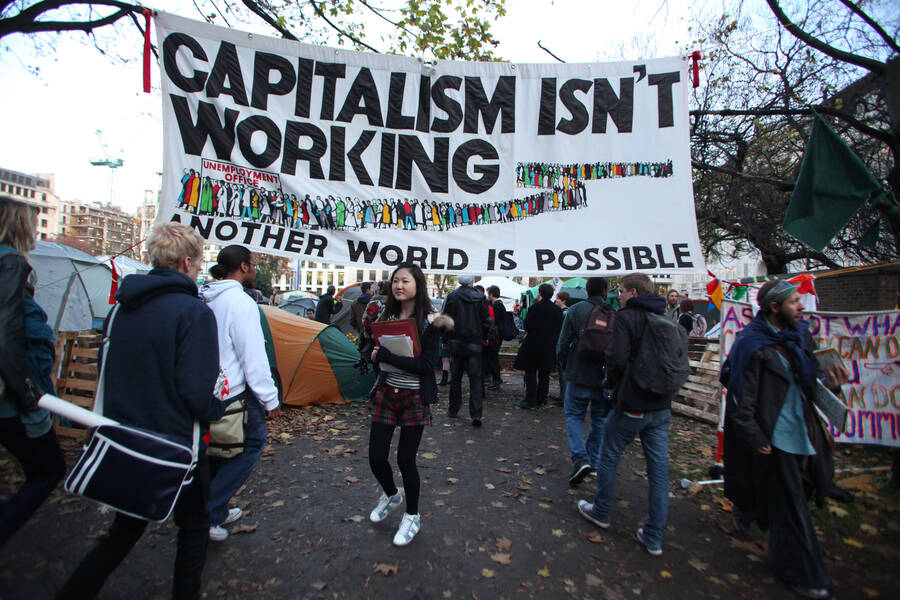 To grasp the sheer magnitude of U.S. economic inequality in recent years, consider its two major stock market indices: the Standard and Poor (S&P) 500 and Nasdaq. Over the last 10 years, the values of shares listed on them grew spectacularly. The S&P 500 went from roughly 1,300 points to over 3,800 points, almost tripling. The Nasdaq index over the same period went from 2,800 points to 13,000 points, more than quadrupling. Times were good for the 10 percent of Americans who own 80 percent of stocks and bonds. In contrast, the real median weekly wage rose barely over 10 percent across the same 10-year period. The real federal minimum wage fell as inflation diminished its nominal $7.25 per hour, officially fixed and kept at that rate since 2009.
Massive Inequality Is a Feature of Capitalism, Not a Bug – In These Times
---
Rev. William Barber: The Fight for a $15 Minimum Wage Is a Fight for Racial Justice
Democrats need to stop playing games and use their majorities to pass a $15 minimum wage right now—we can't wait any longer.
Sixty-two million people in the United States make less than $15 an hour. And here's the truth: the fight to raise the minimum wage to a living wage of $15 is as important as the Civil Rights Act of 1964 and the Voting Rights Act of 1965. For Black people, it's taken us 400 years to get to $7.25 an hour. We can't wait any longer. People in Appalachia can't wait any longer. Poor white people, brown people, we cannot wait any longer. And we won't be silent anymore. 
Rev. William Barber: The Fight for a $15 Minimum Wage Is a Fight for Racial Justice – In These Times
---
Can America's Soul Be Saved?
You know that your country is caught in an endless loop of repetitive thinking when, almost 20 years after you invaded and occupied a distant land, beginning a war you've been incapable of winning despite massive "surges" of troops, contractors, CIA operatives, as well as air power, the Afghanistan Study Group, a congressionally mandated crew led by a retired Marine general who once commanded U.S. forces in that very land, recommends that the official date for the withdrawal of all American troops (but not planes, drones, or contractors), May 21st, be abandoned in the name of peace and the war fought on. (Consider that, by the way, a sentence worthy in length of such a never-ending war.)
Beyond Donald Trump – TomDispatch.com
---
IF YOU ENJOY AND ENDORSE WHAT LEFT OF LEFT IS ABOUT, FEEL FREE TO CONTRIBUTE AT PAYPAL.ME/HUDSONMEDIA – THANK YOU!
~ Steve, editor